1875 Voyage of the Ship "Daylight" to Western Australia
Presented here is a list of "selected emigrants" and a list of "nominated emigrants" who departed London, England on Thursday 27 May 1875 arriving in Fremantle, Western Australia on 28 August 1875 and some background and other information on the ship and voyage.
Background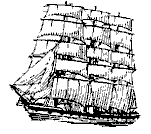 In September 1874 the Legislative Council of Western Australia decided to sponsor immigration in order to overcome the shortage of labour. A Stipendiary Magistrate, E. H. Laurence, was on long service leave in England at the time and advantage was taken of this fact to appoint him a temporary immigration agent. Laurence was supplied with a list of 220 people nominated by friends in the colony and a list of applicants requiring labour. He was authorised to charter a ship to convey 400 migrants and to make arrangements for later consignments.
He hired premises in London, communicated with the nominated individuals and several agents of the Emigration Board. He also went out to the country, addressing meetings and distributing handbills amongst friends and working men's clubs. The task was far from easy as recent similar efforts on behalf of Queensland and New Zealand had drained the numbers of potential migrants. He therefore decided to aim for his quota of migrants by sending them in installments.
The first group of 141 migrants sailed on the Lady Elizabeth from Gravesend on 9th March 1875 with his younger brother , the Reverend Henry Laurence, who had been offered the Geraldton parish, taking passage as ship's chaplain.
The second group left England in May aboard the Daylight bringing another 160 people including EH Laurence. Although he was still below his quota, he had organised with ship owners to take further groups on subsequent voyages. The captain of the Daylight was Captain Bush.
I have found four references to this voyage of the Daylight in the JS Battye Library, LISWA, Perth, Western Australia. The first two are articles published in The Royal Western Australian Historical Society Early Days Journal:
JHM Honniball, "E.H. Lawrence, Stipendiary Magistrate - Part 2", Vol. VII, Part VIII, 1976, pp 8-.
JHM Honniball, "The Experiences of a Migrant of 1875. The Letters of Robert Lind", Vol. VII, Part VIII, 1976, pp 69-.
These give a general background, as indicated above, and some details of the the journey including a list of rations for weekly consumption. Robert Lind was also a passenger on the Daylight.
The third reference is a transcript of the Diary of John Turton, also a passenger. These are sparse diary entries written before, during and after the voyage.
J. Turton, private diary transcripts kept in the private collection of the JS Battye Library. (reader's card required)
Most of the details of the ship's journey can be found here and a brief summary of general happenings is below. There are of course more personal recordings including the death of one of Turton's sons.
Instructions were provided to passengers."Emigrants must provide their own outfit: Smallest quantity for males over 12: 6 shirts; 6 pair stockings; 2 warm flannel shirts; 2 pairs of good boots or shoes; 2 complete suits of strong exterior clothing; 4 towels; 2 lbs of best yellow soap."
27 May: Departed London Docks (picture). Sang songs.
26 June: In the tropics. Many of the sailors and passengers are sleeping on the decks. There was a sudden rain shower so they ran for pails to fill with rain water. Later there is a great downpour and the men ran naked and half-naked across the deck with pails filling.
11 July: Very little breeze - ship is slow.
28 July: Very heavy hail storm. Position: Latitude 36°40' S, Longitude 18°42' E.
School classes and exams were conducted on the journey. Prizes were given to the best students.
26 August: Speed was 10-11 knots all day, covering 220 miles. The order was given for the anchor to be taken out of the hold, which occupied the whole day.
27 August: Strong winds make the vessel roll and high seas break over the ship.
28 August: Heavy clouds over the sea and occasional rain. 11 A.M.: "Land Ho" was called and they soon saw the lighthouse at Rottnest Island. The ship cast anchor at 1:30 P.M., opposite Fremantle.
The Laurences, the Captain and the doctor were all given "testimonials" by the passengers which were received "with pleasure"
29 August: The Emigration Commissioner came on board and told passengers they would be taken to Perth by steamer and their luggage would follow on another steamer.
On the journey there were 2 births and 5 deaths: A child born the previous day; a child of 2 years 10 months ("constipation of the bowels"), a 9 year old boy ("brain fever"); a 44 year old man ("asthma" - but was 'far gone before he came on the ship'); and a sailor of about 26, injured whilst steering the ship in rough weather.
Generally the passengers were satisfied with the comfort and food supplied.
Other Information
Does anyone know if these pictures are really this Daylight?
I cannot confirm that it is the right one, though the year of launch matches (1875) if this voyage was its maiden voyage. I have a note from a newspaper film archive that the Daylight was an "A1 Clipper Barque" and the description from the above photos is "Four masted barque".
The one pictured sank in San Francisco Bay.
Passenger List
The fourth reference is a newspaper article listing the arriving passengers.
West Australia Times published on 23 July 1875, film archives.
From this list, I obtained the birth year and occupation at the time of my great grandfather, Benjamin George Henry COX.
I transcribed the whole passenger list and published it here, with the information above, as my little way to give something back to the genealogy community in general after receiving some generous offers of help and information towards my family history research from a number people on the net. If this information here only helps one person, I'll be happy. Please let me know if you find it useful.
Selected Emigrants
Family Name
Given Name(s)
Age
Sing/Marr
Occupation
Notes
GILES
George
22
Single
Farm Labourer
SHANDY
Francis
25
Single
Farm Labourer
NARRIE
Allan
25
Single
Farm Labourer
NARRIE
Thomas
20
Single
Farm Labourer
MORGAN
Henry
32
Single
Farm Labourer
PRICKETT
George Edward
18
Single
Farm Labourer
COX
Benjamin
19
Single
Farm Labourer
Benjamin COX page
WEEKS
Walter
27
Married
Farm Labourer
WEEKS
Elizabeth
24
Married
WEEKS
Margaret
4
MORGAN
John
24
Married
Farm Labourer
MORGAN
Angelina
26
Married
HONXWELL
John
39
Married
Farm Labourer
#, @, @
Reportedly this name
is mis-spelt and should
be HAUXWELL.
It appears from FreeBMD
that "Francis" should
be "Frances"
HONXWELL
Elizabeth
40
Married
HONXWELL
Mary
22
HONXWELL
Joseph
14
HONXWELL
Francis
7
HONXWELL
Isabella
3
HONXWELL
John
9m
CUNNOLD
Albert
32
Married
Farm Labourer
CUNNOLD
Martha
28
Married
CUNNOLD
Martha Amelia
3
CUNNOLD
Oliver Albert
2
CUNNOLD
Arthur Locke
7m
FITZGIBBON
James
39
Married
Farm Labourer
FITZGIBBON
Mary
37
Married
FITZGIBBON
Julia
16
FITZGIBBON
Mary
15
FITZGIBBON
John
13
FITZGIBBON
James
9
FITZGIBBON
Ellen
4
FITZGIBBON
Charlotte
1
CATCHPOLE
George
23
Married
Labourer
CATCHPOLE
Mary Anne
22
Married
CATCHPOLE
George William
9m
HAUNNERS
John
22
Married
Labourer

@, @, @, @

Reportedly this name

is mis-spelt and should

be STAMMERS

HAUNNERS
Annie
19
Married
HAUNNERS
Mary Anne
1
JONES
John
37
Married
Labourer
JONES
Ann
37
Married
JONES
Mary
13
JONES
Margaret
12
JONES
David
7
JONES
William
5
JONES
Susannah
4m
SANLAVILLE
Marius
24
Married
Labourer
@
SANLAVILLE
Emiline
18
Married
@
LIND
Robert
27
Single
Teamster
**
MARK
Samuel
19
Single
Teamster
DAVIES
Joseph William
21
Single
Teamster
WINWOOD
John
28
Married
Teamster
WINWOOD
Ellen
22
Married
WINWOOD
Eliza
2
WINWOOD
Alice
4m
FORREST
Malcolm
19
Single
Shepherd
FITZROY
Dufton
23
Single
Shepherd
SPIREY
William Frederick
29
Single
Labourer
JONES
Ellis
21
Single
Labourer
#
JONES
William
20
Single
Labourer
#
ENGLAND
Joseph Henry
20
Single
Labourer
HETHERINGTON
Nathan
21
Single
Labourer
#
HETHERINGTON
Joseph
23
Single
Labourer
#
BATTY
Levi
44
Married
Labourer
BATTY
Mary
40
Married
#
BATTY
William
15
BATTY
George
13
BATTY
Charles
11
BATTY
Anne
11
BATTY
Harvey
9
PEARSON
Charles
30
Single
Labourer
MITCHELL
Joshua
24
Single
Labourer
#
TIFFANNY
Washington
22
Single
Labourer
EATCH
William
24
Single
Labourer
BALAAM
Benjamin
22
Single
Labourer
HEPWORTH
John
36
Married
Labourer
#, @
Reportedly this family
returned to England by 1879
HEPWORTH
Sarah
35
Married
HEPWORTH
Clara
15
HEPWORTH
Ernest
12
HEPWORTH
Herbert
7
HEPWORTH
Esther Hanna
4
HEPWORTH
Elizabeth
2
HEPWORTH
Raymond
9m
BALAAM
Benjamin
27
Married
Labourer
BALAAM
Margaret
23
Married
BALAAM
Herbert
1
MAYNS
John
41
Married
Engineer
MAYNS
Mary
41
Married
MAYNS
William
15
MAYNS
Anne
11
MAYNS
Rebecca
4
MAYNS
Frederick
9m
TURNER
John Henry
27
Married
Farrier
@
TURNER
Elizabeth
30
Married
@
TURNER
Arthur
10
@
TURNER
Emily Elizabeth
4m
@
DAVY
Benjamin
15
Single
Miner
DAVY
Job
20
Single
Miner
TREDREW
James
39
Married
Miner
#
TREDREW
Ann
38
Married
TREDREW
Jas. Henry
16
TREDREW
John
13
TREDREW
William
9
TREDREW
Emily
6
TREDREW
Richard
4
DAVY
Joshua Batty
26
Married
Miner
#, @
DAVY
Mary Batty
23
Married
@
DAVY
Wilfred Lawson Batty
2
@
TIPPINS
Richard
22
Married
Wheelwright
@,@ sailed to S.Aust 1876
TIPPINS
Mary Anne
21
Married
@,@ died in Perth 1875
SPEAK
Joseph
34
Married
Turner And Brazier
@,@
SPEAK
Annie
34
Married
@,@
SPEAK
Sarah Jane
7
@,@
SPEAK
Herbert Edward
3
@,@
SPEAK
Joseph
2
@,@
DONOHUE
James
22
Single
Shoemaker
CHAPMAN
George Barrow
28
Single
Shoemaker
COLLETT
Robert
33
Married
Shoemaker
COLLETT
Elizabeth
33
Married
COLLETT
Robert Andrew
4
COLLETT
William
2
KENNEDY
Joseph
37
Married
Shoemaker
KENNEDY
Mary Anne
37
Married
HARGRAVE
Owen
31
Married
Shoemaker
HARGRAVE
Margaret
28
Married
HARGRAVE
Seth
5
HARGRAVE
Walter
3
HARGRAVE
Sarah Ann
1
WRIGHT
George Thomas
26
Single
Miller
#
KEYMER
Israel
24
Single
Miller
MEANN
Edward
33
Married
Miller
MEANN
Mary
29
Married
MEANN
Edward
6
MEANN
Emily
4
MEANN
Ada
3
MEANN
Charles John
11m
TURTON
John
33
Married
Miller
*, @
TURTON
Frances
24
Married
@
TURTON
Samuel
12
@
TURTON
John Henry
7
@
TURTON
Arthur
4
@
TURTON
Lilian
1
@
TER
John Henry
23
Married
Miller

@


Reportedly this name

is mis-spelt and should

be TEE.

TER
Fanny
25
Married
HIRST
Walter
23
Single
Wellsinker
HUGHES
John
27
Married
Mason
HUGHES
Mary Ann
28
Married
HUGHES
James
4
HUGHES
Mary Ann
2
HUGHES
Marion
7m
RILEY
John
22
Married
Timber Cutter
RILEY
Mary Ann
27
Married
CUMMINS
Ralph
33
Married
Joiner
CUMMINS
Caroline
31
Married
CUMMINS
Annie
2
RUSH
J. R.
25
Married
Barber

paid half passage

@

Reportedly this family is on the 1900 US census

RUSH
Mary Alice Selby
20
Married
RUSH
James Selby
2
JONES
Charles
19
Single
Gardener
HUNT
George
30
Married
Gardener
HUNT
Jane Eliza
22
Married
HUNT
George
1
PROVEN
James
31
Single
Sawyer
JACKSON
Walter
35
Single
Sawyer
FARLEY
Joseph
21
Married
Tanner
FARLEY
Annie
19
Married
GARDINER
Charles
19
Single
Tanner
GARDINER
Thomas
21
Married
Tanner
GARDINER
Louisa
18
Married
DAVIS
Mary Anne
19
Single
Domestic Servant
MATTHEWS
Harriet
25
Single
Domestic Servant
LOVELACE
Elsie Elizabeth
32
Single
Domestic Servant
SMITH
Elvira
19
Single
Domestic Servant
ROGERS
Jane
18
Single
Domestic Servant
CANNON
Mary
27
Single
Domestic Servant
NASH
Louisa
20
Single
Domestic Servant
EVANS
Annie
38
Single
Domestic Servant
EVANS
Annie
13
Single
Domestic Servant
PEGDEN
Henry
15
Single
Farm Apprentice
from Bisby Farm School
MAHONY
Charles
16
Single
Farm Apprentice
WOODCOCK
Robert
15
Farm Apprentice
FARMER
Charles
16
Single
Farm Apprentice
TAYLOR
George
16
Single
Farm Apprentice
TOWLER
Alfred
17
Single
Farm Apprentice
Nominated Emigrants
Family Name
First Name(s)
Age
Sing/Marr
Nominated By
DOWNES
Martin
24
Single
M. Downes
HOGAN
John
30
Single
P. Hogan
GOODWIN
Thomas
28
Single
E. Goodwin
REED
Henry
28
Single
F. Flynn
SHENTON
Mary Ann
18
Single
Job. Shenton
Notes:
** Marital status of Robert LIND listed in the paper is incorrect - he was married though travelled alone.
# "Immigrants not yet engaged" as published in West Australia Times on 17 September 1875 [film archives]
@ I have been contacted by people researching these names. If you are too I can put you in touch with each other.
Warren [warrenj@mac.com]
Perth, Western Australia
Originally published: April 2000
[Last updated:
Sat, 27 Jun 2015
]